Broomball closely resembles hockey. Intramural Broomball at Boston University is played on the same ice surface the hockey team uses.
The flow of the game is similar. The three forward, two defensemen, one goalie setup used by most teams is just like hockey. The positions of the faceoffs are just like in hockey.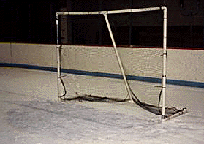 You can substitute players on the fly as you can in hockey.
However, there are several key differences between the two games.
There is no checking in Intramural Broomball at Boston University. There is no offsides.
Instead of wearing ice skates, participants wear sneakers. Instead of a goal cage, goaltenders protect a lacrosse-sized net.