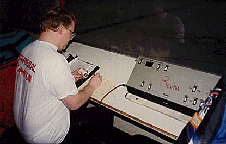 All players must present their Boston University ID cards to the officials prior to the game.
Each team should have 3 men and 3 women on the ice at all times.
A team may begin a game one player shorthanded but it cannot be the goalie.
Each team must have a goalie. The goalie is the only player allowed in the goal crease except when the ball is in the crease.
A male must play in net for one half and a female must play in net for another half.
Substitutions can be made during play just like in hockey. A team can have as many subs as it desires.